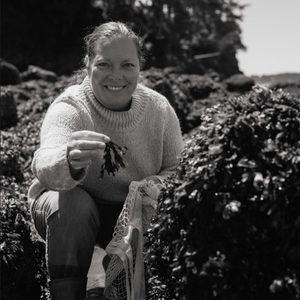 Tanya Droege
President
Born and raised on the western shores of British Columbia, Tanya Droege spent summers exploring the many nooks and crannies of the south coast by boat with her family as she developed a deep and lasting love for the ocean environment and the flora and fauna that is an integral part of this magnificent ecosystem. Her experiences as a young, single mother instilled in her a passion for creating her own inexpensive skin and beauty products, while a brush with thyroid cancer in her early 20's led to an exploration of the health benefits of seaweed. Eventually these two interests intersected, and in 2015 her seaweed skincare company Sealuxe was born. 
From a humble beginning at small craft markets, Sealuxe has continued to expand and now has a following across North America. Tanya's passion for learning and experimenting has led to a wide range of products (which is constantly expanding) and her interest in sharing this knowledge has resulted in the writing of her first book, "Seaweed Skincare".
Tanya lives a stone's throw from the ocean in the beautiful seaside village of Crescent Beach with her husband David, her daughter Ceara, her son-in-law Dallas, grand-baby Benjamin, and their ocean-loving golden retriever, Tootsie Roll. She and David continue their coastal exploration every summer onboard their boat "Doug".
Cameron Dougherty
Originally from California's central valley, Cameron lives and works in Vancouver BC with his wife and their dog. Studying and working with glass has allowed Cameron to work in studios up and down the entire west coast of North America. However, the initial spark behind his lifelong journey with glass came over 14 years ago, while he was earning his degree in Business Information Systems at California State University Chico. After graduating he enrolled at Penland School of Crafts in North Carolina, followed by a 5 year apprenticeship in California.
In 2017 Cameron moved to Vancouver, BC and launched Dougherty Glassworks. He runs his business out of the Terminal City Glass Co-op in East Vancouver, where he was the Studio Manager from 2018-2021.
Along with his own artistic development, Cameron is passionate about the growth and development of the artisan maker community. He enjoys training new students and apprentices and cultivating a love for craft in others.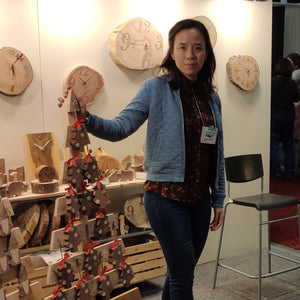 Pen-Hsuan Hsing
Pen was born in Taiwan. After completing her Bachelor's degree in Communication Design from Emily Carr Institute of Art and Design, she returned to Taiwan to work in the design and illustration industry for over 10 years before deciding to shift focus to family.
In 2011 she and her husband Arthur moved back to Canada where the greenery of their surroundings in North Vancouver was astonishingly inspiring.  In 2015 Arthur decided to utilize their garage to build a CNC (Computer Numerated Control) and ArtPen was born.
ArtPen Studio's main working material is wood. The studio is the perfect outlet to merge Pen's background in art and design, and Arthur's background in engineering.  They assess the uniqueness of the natural wood, often locally salvaged in the Lower Mainland, and then the product is designed digitally. With the incorporation of modern maker technology, they are able to explore innovative ways to instil contemporary aesthetics into functional pieces, such as clocks and toys. All the creations are meticulously finished and natural texture of the wood is beautifully enhanced.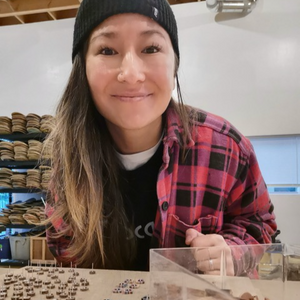 Adea Chung
Growing up in the interior of British Columbia, self expression and creativity were a way of life for Adea Chung. As the oldest of 6, her parents instilled a love for art and a desire to create. Now based in North Vancouver, Adea is a self taught artist pulling inspiration from her lush surroundings and community. 
In 2007 she started Billy Would Designs, combining her passion for sustainability and working with wood. Through this Adea's been able to explore our relationship with waste, host workshops, mentor youth and support aligned causes in the community.  The name Billy is after her daughter, a constant source of joy and support. Billy Would pieces can be found in galleries and shops across Canada as well as in their flagship Vancouver store opened in 2022. 
Lorna Moffat
Lorna graduated from Glasgow School of Art with honours and postgraduate degrees in textile design. She set up in business making one of a kind stitched and collaged textiles for the home and sold her work in galleries and stores in both the UK and North America. She has also completed several large scale public art works around the UK in hospitals, libraries, mental heath clinics and schools.

Lorna left Scotland in 2002 and travelled around the world with her geologist husband and two kids until finally settling in Vancouver in 2012. The climate in BC inspired Lorna to replace the lustrous silks she used in the 90's with warm wool Melton as a base for her collages. The many people she met and cultures she experienced in her travels have inspired her whimsical, colourful collage portraits. Also featured in her creations, inspired by the beauty of nature, are queen bees, leaves, birds and an explosion of flowers.

As a textile artist, fabric is Lorna's paintbox of colour. She uses the sewing machine to piece together complex multi layered colourful, patterned fabrics with a limited range of stitches using an appliqué /collage technique. The act of making something beautiful from both shop bought and up cycled fabrics is a joyful, magical experience. A pillow is an everyday object and Lorna's challenge is making something 'extraordinary' that's seen as 'ordinary'. Lorna exhibits her work around Vancouver and in galleries on Granville and Bowen island. She has exhibited at the Circle Craft Christmas Market since 2015.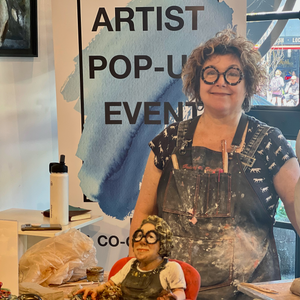 Elaine Brewer-White
Elaine Brewer-White has been a clay sculptor for over 35 years.
Upon graduating from Emily Carr College of Art she commenced her career in figurative sculpture, creating work for public and commercial galleries where pieces have found their way into corporate and private collections worldwide.

Elaine incorporates social comment and humor into all her work. Reoccurring themes of
irony, reflection, and joyful abandon are expressed through gesture, texture, and color.
She often works with iconic figures in history and pop culture to apply the 'what if' question and creates new points of view.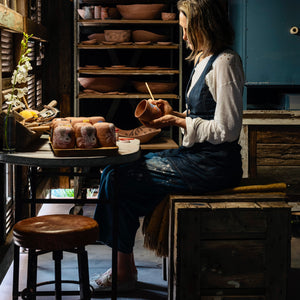 Martha Casey-Knight
'Wild, free and true to nature…' I am a self-taught ceramic artist, gathering inspiration from nature and all its creatures. The environment that surrounds me is integrated throughout my work.

Hell Wench began in Newcastle, Australia and is now based out of East Vancouver. After a lifetime of experiences, l get to indulge in what l love - getting my hands dirty in clay and creating! Clay is the medium l use to express my creativity using a variety of hand built/thrown vessels contorted and carved to a variety of voluptuous shapes that beg to be held and caressed. They are sculptural but practical. Embossed with birds (symbolic of freedom and perspective) and a variety of wildlife, each piece is a work of art created in the moment using the sgraffito technique.

My work emphasizes what it means to be a little wild; a transformation born out of my upbringing in Australia, and allowing the 'gritty but pretty' moniker to come alive.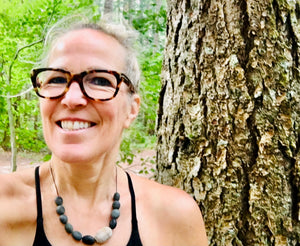 Effie Baker
Effie Baker is a long time resident of the Sea-to-Sky corridor, living in the beautiful Paradise Valley (25 Km north of Squamish). While working as a whitewater river guide for over 25 years she acquired an appreciation of the natural world that inspires her work. Effie enjoyed going to art fairs as a child and knew that she also wanted to explore what those artists were doing. Fast forward thirty-five years and she finally made that plunge.
Effie has a Bachelor of Arts degree from Acadia University in Nova Scotia but in hindsight
would have preferred art school. She began taking courses at Emily Carr, Vancouver Community College, and through the Vancouver School Board. In 2008, Effie began her jewellery business from a cabin in the woods. Metalsmithing became her focus because of its infinite possibilities.

As an inherently shy person, making art has always been a way for Effie to experience another world. Effie is an introvert who has had to become an introverted extrovert for her business. She now loves to talk to other artists and share struggles and triumphs. Effie feels that community is the central pillar to staying grounded and motivated as an artist.

Originally from Nova Scotia, Effie is drawn to the water. She spends time at her cabin on Texada Island, where countless hours are spent collecting the pebbles and shells that find their way onto her workbench and getting inspired by the sea. Effie also gets to spend six months of the year in Mexico where she is also embracing painting along with her jewellery business.